Hire Cars Uganda – 4×4 Car rental Uganda & Self Drive Hire Services
Hire cars Uganda takes the burden of booking car hire in Uganda by finding you the best rates established by Uganda car rental companies so you can instantly compare prices and vehicles on a single website. We have a fleet of cars from which a client selects the best choice based on his/her travel plans. Some of them include; 4×4 Toyota rav4 hire in Uganda, Land cruiser Prado rental in Uganda, car hire Uganda with rooftop tent, car rental with camping equipment and much more.
With Hire Cars Uganda Ltd, no admin costs, booking costs or any other fees and we don't ask you to provide credit card details when making a car rental Uganda booking. Simply rent a car and pay when collecting your vehicle. We always encourage our clients to book in advance not only to have the peace of mind of confirming the booking but also to secure a cheaper car hire rate in Uganda. This is the best way to beat over pricing since last-minute attracts high rates. We have special offers like self drive Uganda experience, car rental with a driver, airport transfers, one-way car rental, long term car hire Uganda, short term vehicle rental and more
Search, compare and save with Hire Cars Uganda Ltd in locations across Uganda, Rwanda, Kenya, and Tanzania!
Popular Cars for Hire in Uganda
4×4 Toyota Rav4 Hire in Uganda
Rent a 5 door 4×4 Toyota Rav4 in Uganda with us from $40 per day for your self drive experience or hire with a driver
4×4 Land Cruiser Prado TX
Hire a 4×4 Toyota Land cruiser Prado at an affordable price. This strong SUV is great for safaris and business trips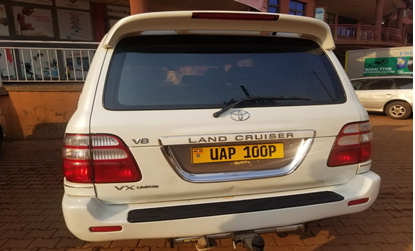 4X4 Land Cruiser V8
Are you looking for more comfort and luxury on the road? A 4×4 Land cruiser V8 is the best option and we have it for hire
Safari Land Cruiser Extended
If you plan to go on a Uganda safari then a 4×4 safari land cruiser extended is the best car to rent. It carries 5 to 7 people
4×4 Land Cruiser Prado TZ
Hire this stable 4×4 land cruiser for your extensive safari through Uganda on self drive basis or rent with a company driver
4×4 Safari Van Rental
Are you planning to move in a group of 4 to 9 people? A safari van is the best choice. This comes with a popup roof for views
Mini Bus Rental
Hire a mini bus in Uganda with us to move with your family or workmates at an affordable price. This comes with a driver
4×4 Land Cruiser Hardtop Hire
Drive through rough roads on a safari with a 4×4 land cruiser hardtop. From a slow as $90 per day, we can give you this car
Saloon Car Hire Uganda
Book a saloon car in Uganda from as low as $30 per day. You can rent on self drive or car rental with a driver
Why hire a car with us?
Price – We always give you the cheapest car rental rates
Simplicity – Booking a car with us is as simple as sending us an email
Free Service – Who likes fees? – We charge no admin or booking fees
No credit card – Pay when the car is delivered to you
Immediate booking confirmation
Trust and Experience – Hire Cars Uganda has been offering the lowest rental deals since 2005
At Hire Cars Uganda, we pride ourselves in customer service and we know it's not just about finding the best online Uganda car hire deal. Our well-trained team is just a call away to help and answer your questions. To improve the level of our support and service delivery, we seek your feedback.
What is the secret to finding the best self drive Uganda Deals?
Wow! The secret to finding the best self drive Uganda deals is simply….. Book Early
The earlier you confirm your car rental Uganda booking with us the cheaper the rate. Renting a car is just like booking an airline ticket. If you book during peak seasons, the prices will be higher than when you book in low seasons. Therefore, planning and booking ahead is a better idea especially if you want to get a better rate.
Note that car hire rates in Uganda vary depending on the type of car you want to rent and its availability. Prices also change when you take a car on a Uganda self-drive experience. At Hire Cars Uganda Ltd, we don't charge you any penny until the date of car collection, therefore its wise to book early.
Additional Car Hire Uganda Services
Frequently asked car hire Uganda questions
How old must I be to rent a car in Uganda?
Most car hire companies in Uganda require drivers to be over 25 years and under 75 years in order to rent a car. However, here at Hire cars Uganda do provide our cars to young drivers and our age bracket is 21-75 years. There are some rental companies that don't give cars for self-drive to clients especially those that are below 25 years of age.
Here at Hire cars Uganda, we believe everyone can hire a car, simply contact our reservation team and you will be advised accordingly.
What Driving license do I require to rent a car in Uganda?
To rent a car in Uganda, you need your own driving license from your country. To rent a car on a Uganda self-drive basis, we always ask you to provide us with a photocopy of your valid driving license and a photocopy of your passport.
Driving in Uganda
Driving in Uganda is on the left side of the road. Therefore, before hiring a car, you should know that on Ugandan roads you keep left. Most of the cars in Uganda are right-handed. We advise our clients to drive at 80kmph while on a high-way and 40kmph when driving through a national park or trading center.
Car Hire – Automatic or Manual Transmission?
Most of the cars in Uganda are automatic. However, at our company, we have both automatic and manual cars fire hire.
Do I need to wear a seat belt in Uganda?
Yes, in Uganda it's mandatory to wear a seat belt while driving or driven in a car
Do I require a child Booster or Baby Seat in Uganda?
We always advise our clients with babies or children under the age of 12 to use a child booster seat. We have these offered to you at a small extra cost.
Mobile Phones and Sat-Nav Guidance in Uganda
While driving, you can only use a hands-free phone. If you don't do this, you are fined. We have satellite navigation guidance systems for our clients and these can be given at a small extra cost